Elected official of Green Party called FriendsForSeals.org "douche bags" see original tweet below.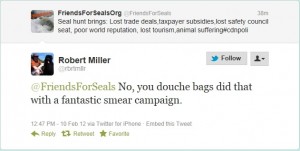 Please note that the name-calling is not an issue with FriendsForSeals.org.
We aren't looking for an insincere apology.
Mr. Miller has made it clear that he DID NOT call ALL animal activists this foul name, but us only.
He tweets repeatedly accusing us of libel.
He so far has not responded to us with our many requests, asking him to what he is referring.
He has contacted us many times, but refuses to answer why he tells his followers that we lie.
Mr. Miller is in St. John's Newfoundland and is pro-seal hunt.
The Green Party Canada as a body has a firm stance of being against the commercial seal hunt.
From this exchange with us that Mr. Miller created, came what has turned out to be a startling revelation to many.
Elizabeth May, Green Party leader, has confirmed that not all elected members are, nor have to be against the seal hunt, so long as they support most of the party's beliefs.
Since the Green party allows official to be pro-seal hunt, we do not support the petition against Mr. Miller.
The stance of the Green Party is anti-seal hunt. If you believe that all officials should be against the seal hunt, think about it before you vote, or take your issue up where it belongs, requesting the Green party to change their policy about members.