The name-calling wouldn't be important if it weren't for the fact that Robert Miller is part of the Green Party, whose basic tenets are touted to be against Canada's seal slaughter.
Our original tweet, not directed to anyone, containing only that which has been proven.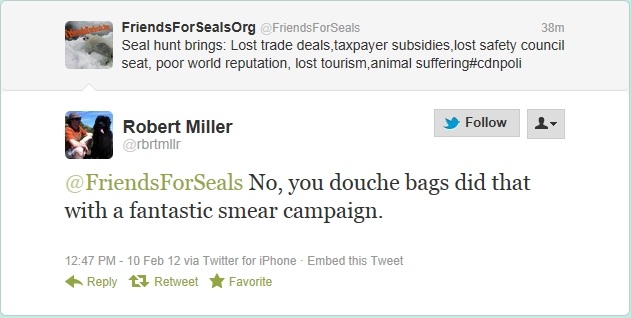 ---
Liliana Danel
Montreal Animal Advocacy Examiner
EXAMINER.com
CANADA SEAL HUNT | FEBRUARY 11, 2012
Robert Miller, part of the Green Party Federal Council representing Newfoundland and Labrador, took twitter to insult animal activists by calling them "douche bags." After the organization Friends For Seals tweeted "Seal hunt brings: Lost trade deals, taxpayer subsidies, lost safety council seat, poor world reputation, lost tourism, animal suffering#cdnpoli" Mr. Miller responds the following "No, you douche bags did that with a fantastic smear campaign."

It seems that Mr. Miller did not read the commercial seal hunt stand of the Green Party. The Green Party does not support the current industrial, commercial seal hunt in Canada. It is more than obvious that in order to win seats in parliament all parties in Newfoundland and Labrador all support the seal hunt in order to take the seats. But the outburst of Mr. Miller is beyond disrespectful not just to animal activists but to the party itself.
As you all know, I am an animal activist and just last year I was at the protest of the seal hunt that took place in Montreal. Deputy Leader of the Green Party Georges Laraque, stood with us to protest the massacre of the seals. It has not been the first time that he has been part of demonstrations and protests, animal activists in Montreal are happy to see his friendly face each time he has an opportunity to give his voice to defend the seals or any other animal. Are we to conclude that Robert Miller has just insulted the Deputy Leader of the Green Party by calling him a "douche bag?"
Denise Perrin, founder of the organization Friends for Seals, is a tireless advocate with a great passion for her noble work. She does not deserve that kind of disrespect from Robert Miller. His comment not just attacks her but one of the main principles of the Green Party. He claims the following on the Green Party's website "Newfoundland and Labrador has passionate individuals dedicated to Green values and Green policies that are directly associated with the Party, but most simply share the same compass" Therefore, I would suggest to Mr. Miller to excuse himself to Mrs. Perrin as well to all animal advocates that call upon the end of the seal hunt. If his heart is to stand for the seal hunt and promoting the Canadian Shame…then I suggest he should change parties.
Brad Anthony, founder of the Global Animal Welfare Development Society (GAWDS), started a petition calling for the Green Party of Canada to fire Robert Miller. To sign the petition please click here
Continue reading on Examiner.com Robert Miller Green Party Representative calls animal activists "douche bags." – Montreal Animal Advocacy | Examiner.com http://www.examiner.com/animal-advocacy-in-montreal/robert-miller-green-party-representative-calls-animal-activists-douche-bags#ixzz1mVdXy8dk