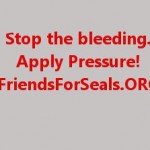 FOR OVER 50 YEARS, PETITIONS HAVE BEEN SENT TO CANADIAN GOVERNMENT REQUESTING THEY END THE COMMERCIAL SEAL HUNT.
Boycott basics:
The hunting by the indigenous peoples and the annual seal slaughter by commercial fishermen are two different things. The EU ban of seal products does not include the Inuit, and neither does the boycott.
We are part of the International Boycott of fish from Canada by commercial fishermen. (Major stores, restaurants, and all in-store brands which fall into this category can be found under Boycott Guide)
We don't promote indirect boycotting (such as maple syrup, etc.)
How will it help?
Fishermen are tired of government promises to find customers to buy seal products. For years, kept afloat by taxpayer subsidies, the seal hunt has cost more money that it has earned.
Pelts have so little monetary value that fishermen waste most of the seals by leaving them to rot on the ice, and dumping them into the ocean; killing them for no reason. (See our news archive for interviews and more info)
Since the Department of Fisheries and Oceans doesn't attend the seal hunt, the situation wide open for cruelty and violations.
Fishermen admit that a large-scale boycott of fish would make them consider giving up killing seals.
Are you condoning eating fish?
The commercial seal hunt is changing the eco-system of Canada's Ocean life. It actually promotes more fishing. Seals are still being blamed for low cod stock, however seals eat more cod predators than cod, so naturally (actually, unnaturally) the cod stock will be depleted. The outcome is the seals being tortured and killed, leaving more of other species of fish available to be unnaturally killed and sold.
It's our opinion as vegans that we should support the boycott. Doing nothing to directly impact those who participate in the cruelty, does not promote veganism.
Who else is involved in the boycott?
Atlantic Canadian Anti-Sealing Coalition (of which we are members)
International Fund for Animal Welfare
Sea Shepherd Conservation Society
The Humane Society ……to name a few
What the Canadian people say:
72% of Canadians agreed that using government funds to support and promote Canada's commercial seal hunt is a waste of tax dollars.
65% Almost two-thirds of Canadians agreed that the commercial hunting of seals for their fur is an outdated industry that should be phased out.
71% of Canadians agreed that a European ban on seal products would encourage Canada to end the commercial seal hunt.